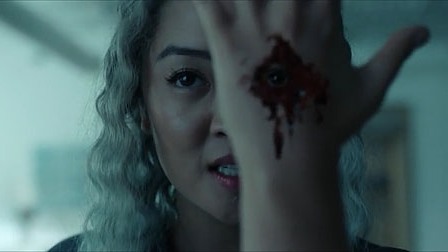 Tytuł odcinka: "Faux-Hawk"
Polski tytuł odcinka:
Pierwsza data emisji: 22 listopada 2019
Reżyseria: Tom Pabst
Scenariusz: Larnell Stovall
Twoja ocena: [yasr_visitor_votes size="medium"]
Sięgnąwszy nowego dna, Hank bierze udział w walkach w klatce za pieniądze, by finansować swoje niezdrowe nawyki. Ale kiedy się budzi i odkrywa, że jego kostium Hawka zniknął – i zamiast niego działa oszust – zdaje sobie sprawę, jak głęboko upadł … i czas podjąć decyzję. Tymczasem Donna i Dawn spotykają się z agentem Cadmusa, aby uzyskać informacje o Garze i Connerze, gdy Cadmus inicjuje pierwszą fazę swojego planu, wykorzystując śmiertelne zdolności Gara. Po powrocie do Gotham Rose ogarnia poczucie winy i zdradza Jasonowi swój sekret. Kiedy Dick zdaje sobie sprawę, że Jericho mógł jakoś przeżyć śmierć z rąk ojca, ucieka z więzienia w nadziei, że go uratuje. Ale najpierw będzie potrzebował nowego kostiumu, aby zastąpić strój Robina, który zniszczył…
W rolach głównych:
Brenton Thwaites – Dick Grayson
Anna Diop – Koriand'r
Teagan Croft – Rachel Roth
Ryan Potter – Gar Logan
Curran Walters – Jason Todd
Conor Leslie – Donna Troy
Chelsea Zhang – Rose Wilson/Ravager
Minka Kelly – Dawn Granger/Dove
Alan Ritchson – Hank Hall/Hawk
Gościnnie występują:
Esai Morales – Slade Wilson/Deathstroke
Chella – as Jericho
Currie Graham – Stu
Natalie Gumede – Mercy Graves
Mayko Nguyen – Adeline
Demore Barnes – William Wintergreen
Raoul Bhaneja – Walter Hawn
Drew Scheid – Faux Hawk
Patrick Garrow – MC
W pozostałych rolach:
Jennifer Hsiung – Mei
Rashaana Cumberbatch – Lily
Paula MacNeill – Jan
Massimo Cannistraro – koleś w bieliźnie
Gairey Richardson – burmistrz
Uppekha Jain – reporter TV
Carlisle J. Williams – strażnik w Cadmus
Deshay Padayachey – reporter wiadomości
Marsha Nicole – kierowca #1
Sean Fisher – kierowca #2
Keana Bastidas – baristka
Siamak Samie – Steamer
---
Tytuł odcinka "Faux-Hawk" mimo wątku z fałszywym Hawkiem nie pasuje do odcinka, który bardziej niż na postaci sięgającego dna Tytana skupia się na postaci Rose.
W przedostatnim odcinku sezonu, twórcy decydują się przybliżyć historię Rose. Na to był czas wcześniej i chociaż zabieg związany z jej relacją z ojcem miał zaskoczyć widzów, to na tym etapie jest mało znaczącym gestem. Mamy kolejny wątek, który mógłby być poprowadzony o wiele lepiej. Subtelnie, z pewnymi wskazówkami zamieszczonymi w poprzednich odcinkach. Niestety całość sprawia wrażenie wrzucenia pomysłu na ostatnią chwilę.
W tym odcinku otrzymujemy przynajmniej trochę akcji w postaci walk w klatce, ale rozczarowaniem jest też wątek fałszywego Hawka. Zamiast większej intrygi otrzymujemy zabieg na 5 minut, który ma pokazać jak nasz bohater odzyskuje wiarę w siebie. Nie tego oczekują widzowie, a już na pewno nie podanego w tak ekspresowy sposób.
Na uwagę zasługuje Dick Grayson, który dostaje nowy strój. Chociaż mamy fajny pomysł z twórcą bohaterskich kostiumów, niczym w świecie Johna Wicka. Jednakże, biorąc pod uwagę, że wszyscy wiedzą kim jest Dick, a także, że to zlecenie Wayne'a, to można tylko się zastanawiać, dlaczego w tym świecie żadem z bohaterów nie dba o zachowanie w tajemnicy swoje tożsamości. Również dobrze mogą ogłosić całemu światu kto kryje się pod różnymi maskami. Niezły pomysł, ale wykonanie słabe.
"Faux-Hawk" to kolejny przykład mocno średniego odcinka, ale po ostatnich mimo jego wad jest drobna poprawa, ale i tak za późno już by zaoferować widzom produkcję na dobrym poziomie. Twórcy nie potrzebnie koncentrują się na pobocznych wątkach, które koniec końców nie wpływają na rozwój bohaterów, bo nawet po chwilowych zawirowaniach wracają tam gdzie byli. Nie na tym powinien koncentrować się przedostatni odcinek sezonu.
Ocena: 3 nietoperki

---
Ciekawostki:
Po raz pierwszy Rose Wilson pojawia się jako Ravager.
W scenie gdy widzimy Gara w kawiarni słychać piosenkę "Lost In the Supermarket" grupy The Clash.
Podczas ataku Gara w kawiarni słychać piosenkę "Angel of Salvation" zespołu Galneryus.
W scenach walki Hawka w klatce słychać utwory "Party Up" DMX oraz "Personality Crisis" zespołu New York Dolls.
Podczas sceny, w której Hank i Jen uprawiają seks słychać piosenkę "I'm Ready To Rock" zespołu Warlock.
Podczas treningu Rose i Deathstroke'a słychać piosenkę "Break Through This Wall" zespołu All Good Things.
Podczas napisów końcowych słychać piosenkę "The System Only Dreams in Total Darkness" The National.
---
---