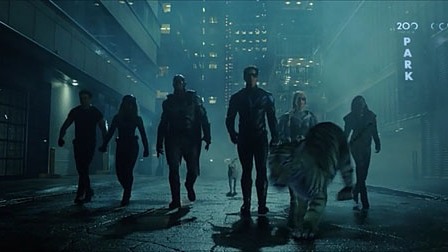 Tytuł odcinka: "Nightwing"
Polski tytuł odcinka:
Pierwsza data emisji: 29 listopada 2019
Reżyseria: Carol Banker
Scenariusz: Richard Hatem, Greg Walker
Twoja ocena: [yasr_visitor_votes size="medium"]
Tytani ponownie gromadzą się pod przywództwem Dicka, który teraz w pełni przyjął tożsamość Nightwinga, aby walczyć z Deathstrokiem i spróbować uratować Jericho. Ale to nie jedyna walka, którą przyjdzie im stoczyć – gdy drużyna staje w obliczu odmienionych wersji Gara i Connera, którzy są teraz w pełni naładowaną bronią na "łasce" Mercy Graves i jej końcowego planu Fazy Drugiej Cadmusa. To Tytani kontra Tytani w epickim finale drugiego sezonu, który jest pełen niespodzianek.
W rolach głównych:
Brenton Thwaites – Dick Grayson/Nightwing
Anna Diop – Koriand'r/Kory Anders/Starfire
Teagan Croft – Rachel Roth/Raven
Ryan Potter – Gar Logan
Conor Leslie – Donna Troy/Wonder Girl
Curran Walters – Jason Todd
Joshua Orpin – Subject 13/Conner/Superboy
Chelsea Zhang – Rose Wilson/Ravager
Alan Ritchson – Hank Hall/Hawk
Minka Kelly – Dawn Granger/Dove
Gościnnie występują:
Esai Morales – Slade Wilson/Deathstroke
Iain Glen – Bruce Wayne
Chella Man – Jericho
Damaris Lewis – Blackfire
Natalie Gumede – Mercy Graves
Raoul Bhaneja – Walter Hawn
W pozostałych rolach:
Shane Marriott – policjant
Nabil Traboulsi – technik Cadmus
Natalie Morgan – Paris
Tim Cody – kasakder
Markeda McKay – dziewczynka
Madison Cipparone – kobieta delegat
Jane Hailes – matka
Eva Placzynska – międzynarodowy kupiec #1
Mel White – międzynarodowy kupiec 2
Leo Choy – międzynarodowy kupiec 3
---
W kolejnym finale sezonu twórcy serialu udowadniają, że nie wiedzą jak do takich odcinków podchodzić. Otrzymujemy co prawda zakończenie trwającej historii, ale nie jest takie jakbyśmy tego chcieli.
Na szczęście nie przyszło nam długo czekać na pojawienie się Nightiwnga, ale co z tego skoro starcie bohaterów, a raczej Dicka i Rose z Deathstrokiem jest rozczarowujące. Po całym sezonie oczekiwania były duże i kolejny raz widzowie muszą poradzić sobie z uczuciem niedosytu. Mając do dyspozycji całą drużynę, w akcji bierze udział tylko dwójka a reszta bezczynnie się przygląda. Po zakończonym starciu można tylko pomyśleć, że twórcy mając listę rzeczy do zrobienia odhaczyli punkt związany Deathstrokiem.
"Nightwing" sprawia wrażenie odcinka, w którym na siłę próbuje się zamknąć różne wątki. I tak jak sprawa Deathstroke'a również ta dotycząca Cadmus zostaje potraktowana po macoszemu. Twórcy wciskają nawet Bruce'a Wayne'a, w którego miejsce również dobrze mógłby działać Alfred, albo Oracle. Nie mamy tu starego Wayne'a z "Batman Beyond" więc ograniczenie jego roli do działań z za biurka w jaskini jest nieporozumieniem. Oba główne wątki sezonu, związane ze złoczyńcami zapowiadały się naprawdę dobrze. O ile motywacja Slade i sprawa z Jericho mogły rozczarowywać, to sprawa z Cadmus do finału trzymała dobry poziom, ale tylko do finału.
Największy zgrzyt budzi jednak potraktowanie postaci Donny Troy. Dostajemy kolejną śmierć w drużynie, przynajmniej na ten moment, bo z mocami Rachel nigdy nic nie wiadomo. Ma on być katalizatorem łączącym drużynę, ale pod względem fabularnym to kolejny przykład taniego chwytu, który zamiast wstrząsnąć widzami wzbudza u nich irytację.
Powolny początek 2. sezonu "Titans" zapowiadał, że może wyjść z tego coś dobrego. Później, pojawienie się Superboya wydawało się sugerować, że twórcy wkroczyli na właściwe tory, a koniec końców okazuje się, że ponownie się wykoleili. Wiele rozpoczętych wątków pozostaje urwanych, jak moce Rachel, czy problemy Kory, a zakończenie sprawy z Jericho i Sladem lepiej przemilczeć. W odróżnieniu od finału 1. sezonu nie ma tu zapowiedzi pojawienia się tak istotnej postaci jak Superboy.
Ocena: 3 nietoperki

---
Ciekawostki:
Po raz pierwszy Dick Grayson pojawia się jako Nightwing.
Podczas napisów końcowych słychać piosenkę "We Are Family" w wykonaniu Sister Sledge.
---
---