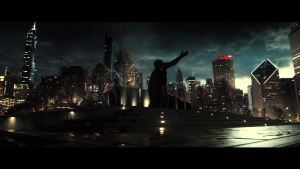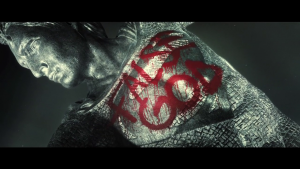 Na początku teasera jesteśmy świadkami prezentacji wielkiej statuy Supermana w Metropolis. W tle słyszymy komentarze na temat bohatera w różnym tonie – jedni go pochwalają, drudzy krytykują. Wśród przemawiających słyszymy prawdopodobnie Charliego Rose'a (pierwsza kwestia), Neila DeGrasse Tysona ("We're talking about a being whose very existence challenges our own sense of priority in the universe"; "Mówimy o istocie, której istnienie poddaje wyzwaniu nasze poczucie istotności we wszechświecie"), Holly Hunter, a także samego Jesse'ego Eisenberga w roli Lexa Luthora – "We know better than that. Don't we? Devils don't come from hell beneath us. They come from the sky" ("Wiemy lepiej, jak się mają sprawy, prawda? Diabły nie pochodzą z piekła spod naszych stóp. Przychodzą do nas z nieba").
W trakcie mówionych komentarzy pokazanych jest kilka scen z Supermanem.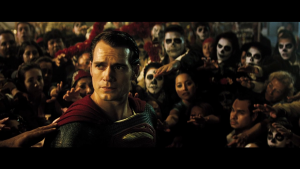 Pierwsza z nich pokazuje Kal-Ela w Meksyku. Wskazują na to pomalowane twarze otaczających go ludzi, które są częścią tamtejszej tradycji Święta Zmarłych.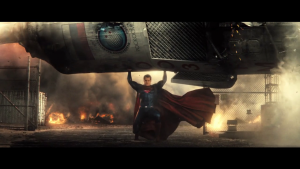 Następnie widzimy Supermana podnoszącego zniszczoną, rosyjską rakietę. Scena może mocno sugerować wykorzystywanie bohatera przez rząd, tak jak w komiksie "Powrót Mrocznego Rycerza", który jest silną inspiracją dla obrazu. Kamerzysta Larry Fong potwierdził na swoim Twitterze, że "003" jest zapisanym od tyłu "300", co oczywiście nawiązuje do poprzedniej produkcji Zacka Snydera.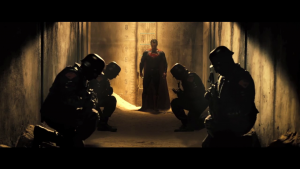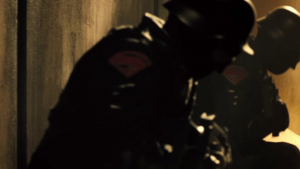 Kal-El i klękający żołnierze są jedną z najbardziej intrygujących scen. Szczególnie, że ci drudzy posiadają na sobie symbol bohatera Kryptonu. Być może Superman będzie posiadał swoją armię, niczym Batman w "Powrocie Mrocznego Rycerza", co jeszcze silniej wskazuje na połączenia rządowe. Skojarzenia naturalnie podążają także do gry "Injustice: Gods Among Us", gdzie Kent również dysponował żołnierzami w budowanym przez siebie świecie.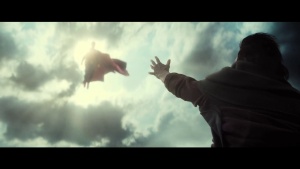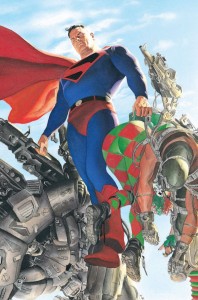 Kolejne ujęcie zdaje się być inspirowane jednym z malunków Alexa Rossa do komiksu "Kingdome Come" (1 rozdział). Przedstawia on Supermana, który powraca do akcji po dłuższej nieobecności jako bohater.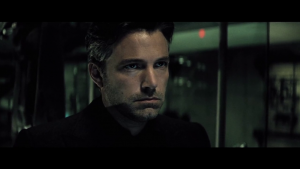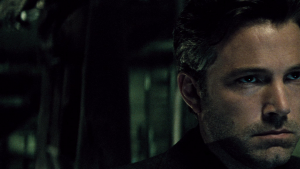 W końcu słyszymy Jeremy'ego Ironsa – Alfreda. Mamy także pierwsze spojrzenie na Bena Afflecka w roli Bruce'a Wayne'a. Wszystko wskazuje na to, że przebywa w bat-jaskini, zaraz przed kabiną, w której znajduje się jego strój Batmana. Obok twarzy Wayne'a można dojrzeć materiał, który przypomina wiszącą pelerynę – być może jest inny, stary strój bohatera lub należy do kogoś innego (Dicka Graysona? Jasona Todda?).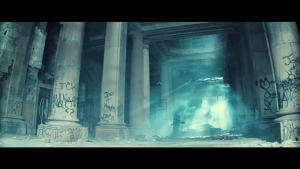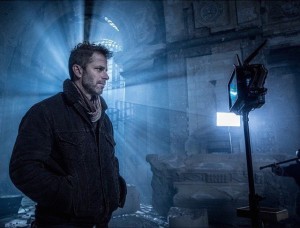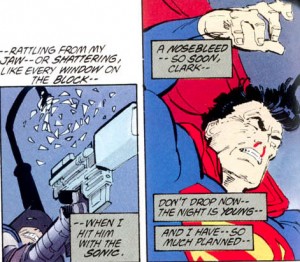 Następne, krótkie ujęcie pokazuje już samego Mrocznego Rycerza w zrujnowanym budynku. Trzyma w rękach broń, kształtem przypominającą pistolet snajperski lub też broń dźwiękową (użył jej w "Powrocie Mrocznego Rycerza" przeciwko Supermanowi). Warto zauważyć, że na jednej z kolumn po lewej stronie znajduje się zielony znak zapytania, który może być nawiązaniem do Riddlera. Na innej zaś Clay Enos, fotograf pracujący ze Snyderem przy filmie, podpisał się nazwiskiem. Warto dodać, że Enos opublikował na swoim Instagramie zdjęcie, które zrobił Zackowi Snyderowi na planie omawianej sceny.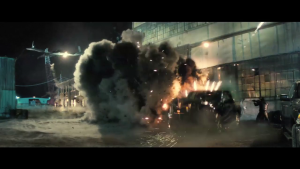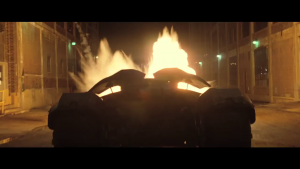 Niespodziewanie zostaje nam zaprezentowany samolot, który prawdopodobnie należy do bohatera Gotham. Prawdopodobnie, gdyż od razu widzimy, jak strzela i zdecydowanie zabija mężczyzn z bronią. Być może jest to dron należący do Batmana, jednakże przejęty przez kogoś innego w celu zrobienia zamieszania. Chwilę później przez sekundę widzimy od tyłu Batmobil.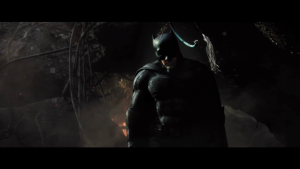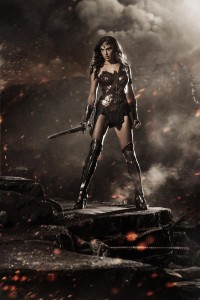 Kolejna scena pokazuje nam pierwszy raz w dużo większej okazałości strój Bena Afflecka. Sceneria (kolory, wystające druty, itd.) mocno przypomina tą ze zdjęcia filmowej Wonder Woman – być może mamy do czynienia z tym samym miejscem.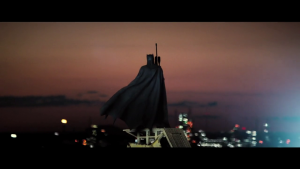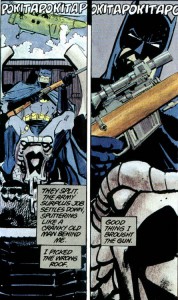 Batman stojący na szczycie wieżowca z karabinem snajperskim jest ewidentnym odniesieniem do "Powrotu Mrocznego Rycerza". W komiksie owa broń służyła bohaterowi za pistolet z hakiem.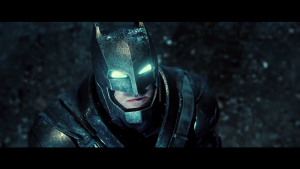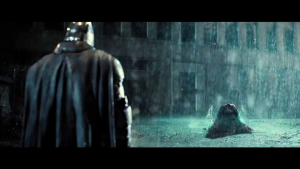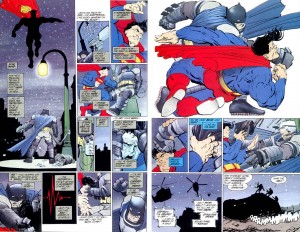 Ostatnia sekwencja pochodzi prosto z powieści graficznej Franka Millera. Widzimy na niej Batmana w swoim stroju przygotowanym na walkę z Supermanem. Hełm Mrocznego Rycerza wskazuje, że nie jest to pierwszy raz, gdy używa specjalnej zbroi. Inny fragment tej sceny został przedstawiony w 2014 roku przez Zacka Snydera na San Diego Comic-Con.
W trakcie słyszymy pytanie kierowane do Kal-Ela: "Tell me. Do you bleed? You will" ("Powiedz mi. Krwawisz? Będziesz"). Warto zauważyć, że Batman nie rusza ustami w trakcie, gdy słyszymy owe słowa – być może pochodzą z innej sceny. W sieci spekuluje się także, czy głos nie należy jednak do innej postaci.
Tekst przygotował i opracował graficzne:
kelen