Zwiastun zawiera sceny z teaser-trailera oraz poprzedniego trailera. Ich analizę znajdziecie kolejno tu, oraz tutaj.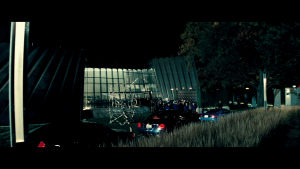 Nowy trailer rozpoczyna się od sceny imprezy, gdzie Clark Kent oraz Bruce Wayne spotykają się po raz pierwszy. Budynek, w którym rozgrywa się akcja to Eli and Edythe Broad Art Museum.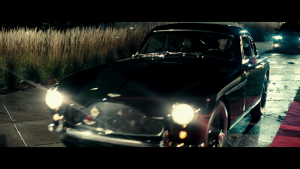 Warto zwrócić uwagę, że Bruce przybywa na miejsce sam – bez towarzystwa Alfreda, co silnie sugeruje inną relację tej dwójki lub też świeże podejście do roli lokaja Wayne'ów.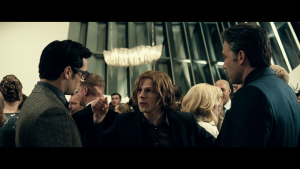 "What's your position on the bat vigilante in Gotham?" ("Jaka jest pańska opinia na temat nietoperzowego mściciela z Gotham?") – pierwsza wymiana zdań między dwójką postaci nakreśla konflikt, który jest główną tematyką filmu. Do dwójki po chwili dołącza Lex Luthor, entuzjastycznie podchodzący do spotkania reportera z Metropolis i miliardera z Gotham.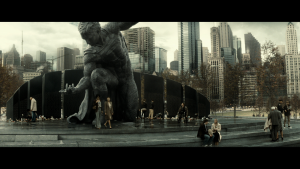 W trakcie rozmowy widzimy scenę pokazującą statuę Supermana. Otaczające go tablice posiadają napisy – być może jest to spis nazwisk ludzi zmarłych podczas ataku Zoda na Metropolis. Z kolei inni składają tam znicze oraz kwiaty.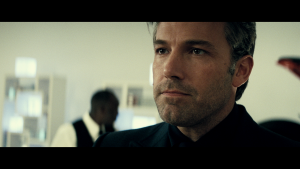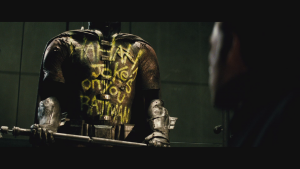 "We have a bad history with freaks dressed like clowns." – Bruce Wayne odnosi się do obaw mieszkańców Gotham wobec Supermana celowo używając słowa klown. Poprzednie klatki przypominające nam o stroju Robina podkreślają nawiązanie Wayne'a do Jokera.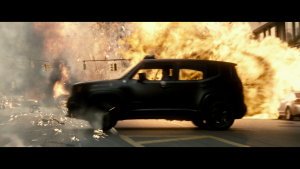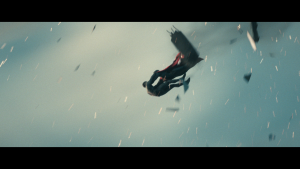 Ponownie dostajemy wgląd na walkę Zoda z Supermanem w Metropolis z perspektywy Batmana. Po ubiorze bez problemu w kierowcy można rozpoznać osobę Bruce'a Wayne'a.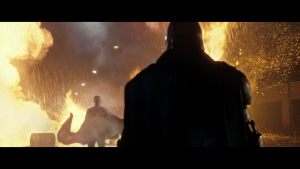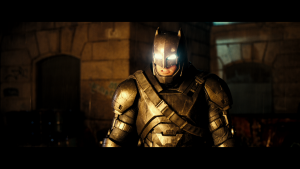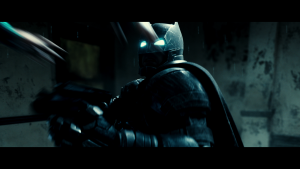 Zwiastun pokazuje także nowe fragmenty potyczki między Batmanem w zbroi a Supermanem. W jednym ujęciu możemy dojrzeć broń trzymaną przez Mrocznego Rycerza, zaś w innej, krótkiej scence – jak używa grappling guna, aby przedostać się na niższy teren w środku budynku.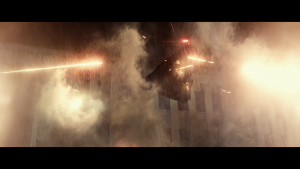 Kolejna sekwencja to Batman w swoim latającym pojeździe strzelającym w Człowieka ze Stali. Montaż jednak chcę nas prawdopodobnie zmylić – w kilku kadrach wyraźnie widać, że pociski lecące w Supermana są pod innym kątem, niż powinny.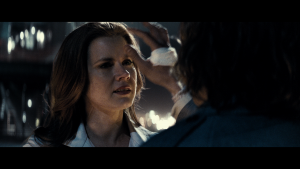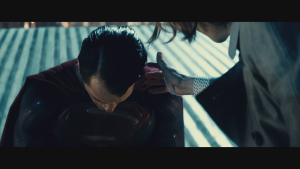 Rozmowa Luthora z Lois odbywa się prawdopodobnie w tym samym czasie, co scena z poprzedniego trailera, gdzie obecny był jeszcze Superman. Sugeruje to otoczenie oraz bandaż na ręce mężczyzny.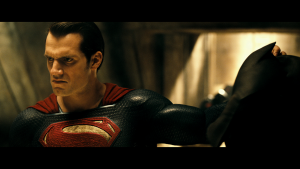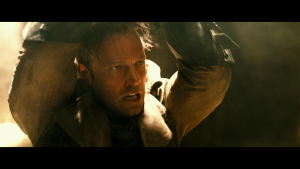 Trailer ponownie przywołuje nietypowe sceny z akcją toczącą się na pustyni. Widzimy jak schwytany Batman zostaje zdemaskowany przez Supermana.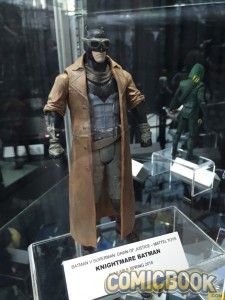 Z prezentacji zabawek z "Batman v Superman: Dawn of Justice" możemy być niemal pewni, że cała sekwencja to koszmarna wizja Wayne'a. Figurka Batmana w charakterystycznym stroju nazwana została jako "Knightmare" (połączenie słów "knight" – rycerz, oraz "nightmare" – koszmar).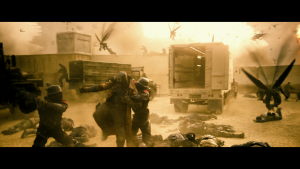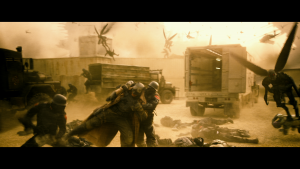 Mimo wysokiego prawdopodobieństwa, że sekwencja jest snem, zdradza ona bardzo istotny szczegół na temat nadejścia jednego z największych zagrożeń w uniwersum DC Comics. W jednej scenie widzimy latające stwory, które porywają poległych żołnierzy.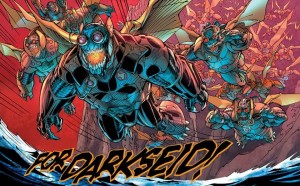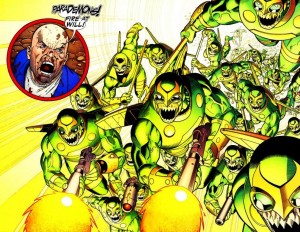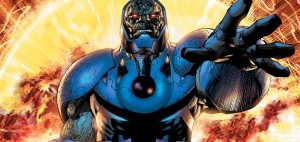 To nikt inny, jak Parademony – stwory, które służą Darkseidowi, istocie z rasy Nowych Bogów, władcy planety Apokolipis. Potężny byt jest jednym z najsłynniejszych i najpotężniejszych przeciwników Ligi Sprawiedliwości.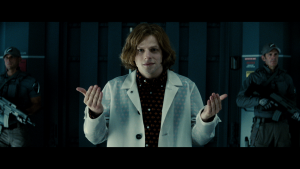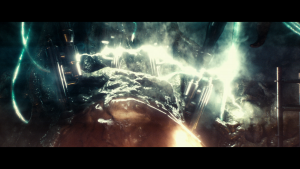 Największą bombą zwiastuna to odkrycie prawdziwego złoczyńcy filmu, za którego odpowiedzialny jest oczywiście Lex Luthor.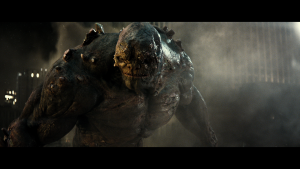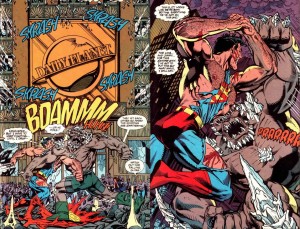 Doomsday. Przeciwnik Supermana, który zasłynął z historii komiksowej, gdzie zabił Człowieka ze Stali podczas ogromnej walki w Metropolis.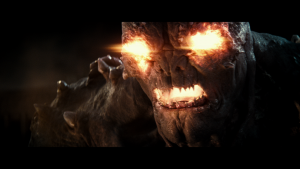 Co ciekawe, trailer sugeruje, że Luthor stworzył potwora używając do tego ciała Zoda. Zgadzałoby się to z komiksowym pierwowzorem, który był bestią stworzoną jako ostateczna forma życia w odległej przeszłości planety Krypton. Fakt ten tłumaczyłby posiadane przez niego moce zbliżone do Supermana (laserowy wzrok).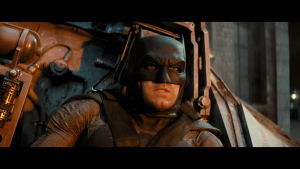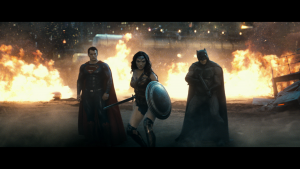 Kolejne ujęcia potwierdzają, że wspólna sceneria wielkiej potyczki, którą obserwowaliśmy też w poprzednim zwiastunie, jest polem walki Batmana, Supermana oraz Wonder Woman z Doomsday'em.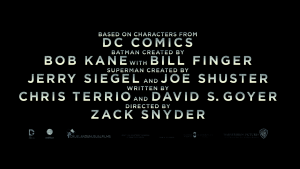 Na samym końcu warto odnotować zaktualizowany podpis dotyczący twórców Batmana – Bill Finger po raz pierwszy zostanie nazwany współtwórcą postaci Mrocznego Rycerza na wielkim ekranie.
Tekst opracował graficzne:
kelen
Analizę przeprowadzili:
kelen