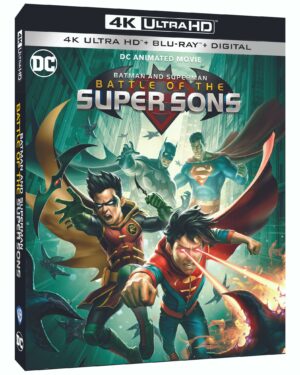 Akcja filmu rozpoczyna się, gdy gdy 11-letni Jonathan Kent odkrywa, że ma supermoce, wpycha to pół-Kryptończyka w skomplikowany świat superbohaterów i superzłoczyńców, którzy są teraz atakowani przez złowrogie obce siły znane jako Starro! To wyścig z czasem, w którym Jonathan musi połączyć siły z przemienionym w Cudownego Chłopca zabójcą Damianem Waynem, aby uratować swoich ojców (Supermana i Batmana) i ocalić planetę, stając się Super Synami, jakimi mają być!
Jack Dylan Glazer ("Shazam!", "Luca", "It") oraz Jack Griffo ("The Thundermans") użyczają głosów głównym bohaterom, Jonathanowi Kentowi i Damianowi Wayne'owi. W pozostałych rolach występują: Troy Baker ("The Last of Us", "Batman: The Long Halloween") jako Batman/Bruce Wayne, Travis Willingham ("Critical Role", "Sofia The First") jako Superman/Clark Kent, Laura Bailey ("The Legend of Vox Machina", "Naruto: Shippûden") jako Lois Lane, Darin De Paul ("Overwatch", "Mortal Kombat Legends: Scorpion's Revenge") jako Lex Luthor & Starro, Tom Kenny ("SpongeBob SquarePants") jako Green Arrow & Penguin, Zeno Robinson ("Big City Greens", "Pokémon") jako Jimmy Olsen & Melvin Masters, Nolan North (seria gier "Uncharted", "Young Justice", "Pretty Little Liars") jako Jor-El oraz Myrna Velasco ("DC Super Hero Girls", "Star Wars Resistance") jako Wonder Girl & Lara.
Matt Peters ("Justice League Dark: Apokolips War") reżyseruje "Batman and Superman: Battle of the Super Sons" na podstawie scenariusza autorstwa Jeremy'ego Adamsa (seria "Mortal Kombat Legends"). Producentem jest Jim Krieg (Batman: Gotham By Gaslight), a producentem nadzorującym jest Rick Morales ("Injustice", "Batman: Return of the Caped Crusaders"). Producentami wykonawczymi są Michael Uslan i Sam Register.
---