---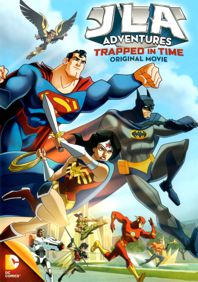 JLA ADVENTURES: TRAPPED IN TIME
(USA, 2014)
TYTUŁ POLSKI: LIGA SPRAWIEDLIWYCH: UWIĘZIENI W CZASIE
GATUNEK: Animacja
CZAS PROJEKCJI: 52 minuty
REŻYSERIA: Giancarlo Volpe
SCENARIUSZ: Mike Ryan
MUZYKA: Frederik Wiedmann
PRODUCENCI: Giancarlo Volpe
STUDIO: DR Movie
PREMIERA DVD: 21 stycznia 2014 (USA)


PREMIERA TV: 23 maja 2015 (Polska – HBO)
Przygotujcie się na bitwę wszech czasów, kiedy Justice League mierzy się z Legion of Doom w nowym filmie od DC Comics. Pojawia się tajemniczy osobnik zwany Time Trapper, a złowrogi plan opracowany przez Lexa Luthora wysyła Legion of Doom w przeszłość by wyeliminować Supermana, Wonder Woman i Batmana nim ci zostali superbohaterami. Dla Aquamana, Flasha i Cyborga oraz nastoletnich bohaterów Karate Kida i Dawnstar stawka nigdy nie była wyższa, a misja ratunkowa bardziej niebezpieczna. Dołącz do walki o przyszłość, kiedy Justice League stoi przed ostatecznym wyzwaniem… groźbą, że nigdy nie powstała!
Animacja wydana wyłącznie na DVD i dostępna w USA w sieci Target. Było to tzw. "stealth release", czyli wydanie nie było promowane, a jego dostępność była ograniczona.
Filmów animowanych z Batmanem jest w ostatnim czasie dość dużo. Mamy wspólne animowane uniwersum DC, oraz także produkcje oparte na LEGO czy na serii zabawek, trochę na tym tle odosobniony jest skierowany do najmłodszych widzów "JLA Adventures: Trapped in Time", który swoim stylem nawiązuje do serialu animowanego "SuperFriends".
Fabuła "JLA Adventures: Trapped in Time" skomplikowana nie jest i korzysta z tak ogranych motywów znanych chociażby z "Powrotu do przeszłości", czy "Człowieka demolki". Dziecinność zachowań bohaterów oraz liczne uproszenia i dziury w fabule mogą razić widza oczekującego czegoś więcej, jednak jak przymkniemy na nie oko to nie jest tak źle. Młodsi widzowie zaś pewnie nawet nie dostrzegą oczywistych wad i pewne głupkowate momenty rozbawią ich. Sam tytuł sugeruje, że nie będzie to coś porywającego, nie mniej jednak z odpowiednim nastawieniem seans może być przyjemny. Zwłaszcza jeśli nie mamy dostępu do legendarnych "Superprzyjaciół", a chcielibyśmy przekonać jak kiedyś przedstawiano największych bohaterów DC Comics.
Wbrew tytułowi to nie Justice League odgrywa tu główną rolę, ale bohaterowie z XXXI wieku, czyli Karate Kid i Dawnstar. Młodzi herosi dopiero chcą dołączyć do grona Legionu Superbohaterów i cały film to dla nich cenna lekcja. Animacja skierowana jest do wszystkich bez zagłębiania się w mroczne rejony, a jeśli u boku Batmana mamy Robina, to nawet bohater Gotham City wydaje się pogodniejszy.
Jako, że mamy do czynienia z dość tanią produkcją, to animacja momentami odchodzi od obecnych standardów. Sceny akcji wypadają jednak nieźle, gorzej jeśli widzimy sztuczne ulice miasta.
Koniec "JLA Adventures: Trapped in Time" jest niczym zakończenie "Powrotu do przeszłości" wydaje się, że bohaterowie jeszcze powrócą, ale oficjalnie żadnych planów nie ma. Jeśli Warner Bros. chce kontynuować wypuszczanie takich odrębnych produkcji, to nie miałbym nic gdyby kolejna z nich odniosła się do uniwersum z lat 90-tych.
"JLA Adventures: Trapped in Time" to lekki zabawny film w sam raz dla młodych widzów dla których nowe filmy animowane z bohaterami DC w kategorii PG-13 są zbyt poważne, a starsi widzowie mogą z nostalgią powspominać "Superprzyjaciół". Jako alternatywna dla innych animowanych propozycji "JLA Adventures: Trapped in Time" nie jest takie złe jak się wydaje, ale też należy pamiętać jakiego typu jest to produkcja. Fani Batmana nie mogą tu przynajmniej narzekać, że znowu któryś ze słynnych komiksów przerobiono na średnio udany film animowany, a i Robinem nie jest tu Damian Wayne, co wielu może uznać za plus.
Ocena: 3,5 nietoperka

---
Obsada: Peter Jessop jako Superman, Dante Basco jako Karate Kid, Grey DeLisle jako Wonder Woman, Jason Spisak jako Flash, Laura Bailey jako Dawnstar, Diedrich Bader jako Batman, Jack DeSena jako Robin oraz Liam O'Brien jako Aquaman.