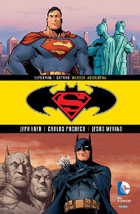 SUPERMAN/BATMAN, TOM 3: WŁADZA ABSOLUTNA
Data wydania: 13 lipca 2016
Scenariusz: Jeph Loeb
Rysunki: Carlos Pacheco
Tłumaczenie: Jakub Syty
Druk: kolor, kredowy
Oprawa: miękka ze skrzydełkami
Format: 167 x 255 mm
Ilość stron: 120
Wydawca: Egmont Polska
Wydawca oryginalny: DC Comics
Cena: 39,99 zł
Twoja ocena:

GD Star Rating
loading...
Superman i Batman sprawują na Ziemi rządy silnej ręki. Ludzkość ma do wyboru: poddać się temu albo zginąć. Jak do tego doszło? I czy jest ktoś, kto może powstrzymać superbohaterów? Wkrótce najwspanialszy duet na świecie zostaje rzucony w wir dziwacznych, alternatywnych wymiarów, stając oko w oko z całą plejadą klasycznych postaci z uniwersum DC, wśród których są Kamandi, Sierżant Rock, Nawiedzony Czołg oraz wielu innych!
"Władza absolutna" to trzeci trade serii "Superman/Batman", który przedstawia dość specyficzną historię duetu The World's Finest. Wszystko zaczyna się tak, jak można byłoby się spodziewać – pewnego dnia na farmie w Kansas spada statek kosmiczny z dzieckiem na pokładzie, a kilka lat później w Gotham City do mrocznej alejki skręca rodzina Wayne'ów, która nie zdaje sobie sprawy, że za chwilę spotka ich coś strasznego. Jednak już druga strona tego komiksu odwraca dobrze znane wszystkim fanom wydarzenia do góry nogami, uśmiercając kilka postaci, które umrzeć nie powinny, a także uprowadzając młodego Kal-Ela i Bruce'a Wayne'a przez tajemnicze trio, przez co przyszłość bohaterów będzie wyglądać zupełnie inaczej.
To dość oryginalny start, który zwiastował najciekawszą do tej pory historię o Batmanie i Supermanie. Jednak pary w tym parawanie starczyło jedynie na połowę trasy. W samym środku następuje zwrot akcji, który rzuca Ostatniego syna planety Krypton i Człowieka-Nietoperza z jednego zakamarku uniwersum DC do drugiego, gubiąc przy tym rytm i bombardując czytelnika odniesieniami, których nawet najzagorzalsi fani mogą nie wyłapać. Nie chcę zdradzać zbyt wiele z samej fabuły, dlatego napiszę jedynie, że drugi akt wydał mi się na tyle męczący, że finał starałem się już przeczytać na tak zwanej pełnej petardzie – jak najszybciej, byleby dotrzeć do mety. Inaczej mógłbym odłożyć ten tom w kąt i nigdy więcej do niego nie wrócić.
Najjaśniejszym punktem tej opowieści pozostaje relacja Clarka z Brucem. Nawet mocno odmienieni herosi rozumieją się bez słów i uzupełniają kiedy trzeba. Jeph Loeb (ponownie w roli scenarzysty) jak nikt inny rozumie to, jak doskonale działa kontrast między ich osobowościami i jak dobrze wykorzystać ich niektóre podobieństwa (np. troskę o najlepszego przyjaciela). Relacja Batmana z Supermanem to coś, na czym ta seria powinna się opierać i póki co, nie zawodzi w najmniejszym stopniu.
Prace Carlosa Pacheco są dość proste, przypominają mi rysunki twórców z późnych lat osiemdziesiątych i wczesnych lat dziewięćdziesiątych. W żadnym wypadku nie jest to wada (wychowałem się na takich komiksach), wręcz przeciwnie, mają swój urok i mimo prostoty nie kojarzę nawet jednego nieudanego kadru. Zdaję sobie sprawę, że dość mocno skrytykowałem scenariusz w drugim akapicie, ale koniec końców oceniam ten komiks pozytywnie, głównie za sprawą tego jak on wygląda, a nie jak się go czyta.
Ocena: 3 nietoperki

---
---
Wydanie powstało na podstawie komiksu: SUPERMAN/BATMAN VOL. 3: ABSOLUTE POWER.
---