---
| O SERIALU | GALERIA | ODCINKI |
---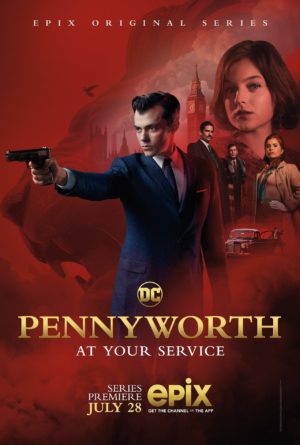 "Pennyworth" śledzi losy legendarnego kamerdynera Bruce'a Wayne'a, Alfreda Pennywortha (Bannon), 20-kilkuletniego byłego żołnierza SAS, który zakłada firmę ochroniarską i rozpoczyna współpracę z młodym miliarderem, Thomasem Wayne'em, który nie jest jeszcze ojcem Bruce'a, w Londynie w latach 60-tych.
Serial "Pennyworth", którego pierwszy sezon liczyć będzie 10 odcinków, zadebiutuje w czerwcu 2019 roku na kanale Epix. Za produkcję odpowiadają twórcy "Gotham" Bruno Heller i Danny Cannon.
---
BOHATEROWIE:
Jack Bannon – Alfred Pennyworth
Pennyworth to chłopięco przystojny, wesoły, czarujący, sprytny młody człowiek z Londynu. Uczciwy, otwarty i dowcipny; nigdy nie weźmiesz go za zabójcę SAS. Alfred nie wie, jak pogodzić tego dobrodusznego chłopca z zimnym, wyrachowanym mordercą, którym musiał zostać. Jest mężczyzną który dopiero zaczyna swoją karierę i nie wie jeszcze, co z sobą począć.
Ben Aldridge – Thomasa Wayne
Thomas Wayne jest młodym, świeżo upieczonym miliarderem, pochodzącym ze wschodniego wybrzeża Stanów Zjednoczonych. Pewny siebie i niezwykle zdyscyplinowany młody arystokrata spotyka niespodziewanego partnera biznesowego w osobie Alfreda Pennywortha.
Ryan Fletcher – Dave Boy
Dave Boy, to mizerny szkocki góral, który powoli zapija się na śmierć po opuszczeniu armii, jest bliskim sojusznikiem Alfreda i Bazza, a także najbardziej nieprzewidywalnym z tej trójki.
Hainsley Lloyd Bennett – Bazza
Barbadoszczyk Bazza, elegancki playboy, jest bardzo biegły w logistyce i cenionym członkiem zespołu Alfreda.
Paloma Faith – Bet Sykes
Bet będzie okrutną przeciwniczką, która przetestuje odwagę młodego Alfreda Pennywortha i jego nowego szefa, Thomasa Wayne'a, przyszłego ojca Bruce'a Wayne'a. Sykes opisywana jest jako, porywcza, sadystyczna i złośliwa łotrzyca.
Jason Flemyng – Lord Harwood
Harwood określany jest jako "kulturalny, grzeczny, błyskotliwy i wyjątkowo pewny siebie ale także mający sadystyczną i okrutną naturą skrywaną pod pozorami wdzięku".
Polly Walker – Peggy Sykes
Peggy Sykes – siostra Bet Sykes – jednej z najbardziej pracowitej i odnoszącej największe sukcesy dominatrix w Lancashire. Rozsądna matrona w rodzinie maniaków, Peggy jest bezwzględnie lojalna, niezwykle zaradna i żyje według własnego, dziwnego, ale rygorystycznego kodeksu moralnego.
---
---