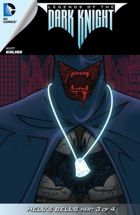 LEGENDS OF THE DARK KNIGHT #72
Tytuł historii: Hell's Bells, part 3
Data wydania: 17.10.2013 (USA)
Scenariusz: Scott Kolins
Rysunki: Scott Kolins
Okładka: Scott Kolins
Kolor: Wendy Broome
Liternictwo: Saida Temofonte
Ilość stron: 23
Twoja ocena:

GD Star Rating
loading...
Mroczny Rycerz musi odkryć, dlaczego ofiary bestii umierają nawet jeśli uda im się przeżyć pierwszy atak – jego główny sojusznik w GCPD leży w szpitalu i jest bliski śmierci.
Kiedy Batman na dachu Bell Building znajduje swojego jedynego sojusznika w policji, Jima Grodna, myśli że jest już za późno. W szpitalu komisarz zostaje otoczony czułą opieką i może liczyć na wsparcie rodziny, ale to może nie wystarczyć by uratować mu życie.
Wiedząc, że potwór w jakiś sposób wysysa życie ze swoich ofiar, Batman postanawia za wszelką cenę go złapać by uratować swojego przyjaciela.
Przeszukując pobliskie bagna policja odnajduje kolejne ciała. Cały teren ma zostać wkrótce spalony. Wieczorem funkcjonariusze po ciężkim dniu pracy odwiedzają komisarza Gordona i pocieszają jego żonę. Jednak w policji nie brakuje też osób skorumpowanych, które życzą Jimowi rychłej śmierci.
W Wayne Manor Bruce'a odwiedza ksiądz i zakonnica, którzy osobiście chcą mu podziękować za hojne dotacje dla potrzebujących. Miliarder jest jednak pochłonięty innymi sprawami i w dość niegrzeczny sposób przyjmuje ich podziękowania. W jaskinia Alfred zwraca swojemu przyjacielowi uwagę, że tak nie powinien się zachowywać, i odkłada biblię, którą wręczył ksiądz, obok bat-komputera.
W swoim domu umiera Bavol Bella, który przed laty sam został dopadnięty przez bestie, która nałożyła mu dzwonek. Kiedy jego ciało jest wynoszone z budynku zaczyna dzwonić srebrny dzwonek zawieszony na jego szyi. Taki sam jaki nosi bestia. Kiedy Batman próbuje go obejrzeć nagle rzuca się na niego córka Bella, która zamieniła się w potwora. Podczas starcia okazuje się, że zamiast paralizatora, Alfred wyposażył Batmana w coś nowego, co skutecznie działa na bestię. Bohaterowi udaje się wyjść cało z opresji, ale ciało właściciela budynku znika.
Wiemy już kto nosi piekielny dzwoneczek, ale nic poza tym. Bestię trzeba pokonać i tylko Batman może tego pokonać, z pomocą Alfreda, który jako jedyny zdaje sobie sprawę, że w tym starciu wsparcie błogosławieństwa duchownego jest przydatne. Historia utrzymuje poziom z poprzedniego numeru, może jest nawet trochę lepiej, w czym spora zasługa momentów z Gordonem, który walczy o życie. Naprawdę widać wtedy więź łączącą bohaterów, oraz jak nowa sytuacja wpływa na Bruce'a. Jednak to nie jest to czego się spodziewałem. Są pewne elementy, które zapowiadają coś interesującego, ale później okazuje się, że twórcy nie raczą wrócić do takich wątków jak ten chociażby z Pingwinem. Zaczynam wątpić by w ogóle coś w tej historii zostało sensownie wyjaśnione. Całość chyba ograniczy się tylko do walki Batman z potworem.
Ocena: 3 nietoperki

---