---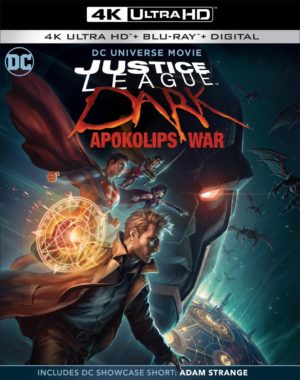 JUSTICE LEAGUE DARK: APOKALIPS WAR (USA, 2020)

TYTUŁ POLSKI:
GATUNEK: Animacja
CZAS PROJEKCJI:
REŻYSERIA: Matt Peters i Christina Sotta
SCENARIUSZ: Ernie Altbacker i Mairghread Scott
MUZYKA:
PRODUCENCI: Amy McKenna
WSPÓŁPRODUCENCI: Jim Krieg
PRODUCENCI WYKONAWCZY: Sam Register i James Tucker
STUDIO: Warner Bros. Animation, DC Entertainment
PREMIERA BLU-RAY/4K UHD: 19 maja 2020


W "Justice League Dark: Apokolips War", kolejnym filmie z popularnej serii DC Universe, najwięksi superbohaterowie na świecie raz na zawsze zmierzą się z despotycznym Darkseidem – gdy los całej ludzkości wisi na krawędzi. Wyprodukowany przez Warner Bros. Animation, DC i Warner Bros. Home Entertainment, "Justice League Dark: Apokolips War" zadebiutuje w wersji cyfrowej 5 maja 2020 r., a w pakietach 4K Ultra HD Combo Pack i Blu-ray Combo Pack 19 maja 2020 r.
Do filmu dołączona będzie nowa krótkometrażówka DC Showcase z Adamem Strangem. Ekscytująca opowieść, która oferuje wgląd w fascynującą historię kosmicznego poszukiwacza przygód, przedstawi w roli tytułowej Charliego Webera (How To Get Away with Murder).
W kulminacji sześcioletniej animowanej podróży, która rozpoczęła się wraz z premierą "Justice League War" w 2014 roku, "Justice League Dark: Apokolips War" odkrywa, że ​​Ziemia została zdziesiątkowana po tym jak międzygalaktyczny tyran Darkseid zdewastował Ligę Sprawiedliwości podczas źle przeprowadzonej wojny przez superbohaterów DC. Teraz pozostałe bastiony dobra – Justice League, Teen Titans, Suicide Squad i inni – muszą się przegrupować, opracować strategię i zabrać wojnę do Darkseida, aby ocalić planetę i jej ocalałych mieszkańców. To naprawdę wojna kończąca wszystkie wojny, a tylko zwycięzca przeżyje, aby czerpać korzyści z łupów.
"Justice League Dark: Apokolips War" zawiera największą obsadę superbohaterów w historii DC Universe Movies z dziesiątkami aktorów / postaci wcielającymi się w swoje od początku tego sześcioletniego kontinuum.
Matt Ryan (DC's Legends of Tomorrow, Constantine), Jerry O'Connell (The Death of Superman, Satanic Panic, Stand by Me) i Taissa Farmiga (The Nun, The Mule, American Horror Story) wystąpią jako Constantine, Superman i Raven – triumwirat zdecydowany zgromadzić siły niezbędne do przeprowadzenia ostatecznego ataku ludzkości.
Obok tego tria jest nie zabraknie stałych głosów Ligi Sprawiedliwości – Jason O'Mara (The Man in the High Castle, Agents of S.H.I.E.L.D.) jako Batman, Rosario Dawson (Briarpatch, Josie and the Pussycats, Sin City) jako Wonder Woman, Shemar Moore (S.W.A.T., Criminal Minds) jako Cyborg oraz Christopher Gorham (Covert Affairs, Insatiable, Ugly Betty) jako Flash – a także współpracownicy JL Rebecca Romijn (X-Men, The Librarians) i Rainn Wilson (The Office, Meg) jako Lois Lane i Lex Luthor.
Tony Todd (Candyman, The Flash) użyczy głosu głównemu złoczyńcy, Darkseidowi.
W obsadzie znajdą się także Camilla Luddington (Grey's Anatomy) jako Zatanna, Ray Chase (Justice League Dark, Final Fantasy XV) jako Jason Blood / Etrigan, Roger R. Cross (24, The Strain, Arrow) jako John Stewart i Swamp Thing, Liam McIntyre (Spartacus: War of the Damned, Flash) jako Captain Boomerang, Hynden Walch (Teen Titans Go! Vs. Teen Titans) jako Harley Quinn, Stuart Allan (Batman vs. Robin, Batman: Bad Blood) jako Robin / Damian, Sachie Alessio (Batman: Hush) jako Lady Shiva i John DiMaggio (Futurama, Batman: Under the Red Hood) jako King Shark.
Film wyreżyserowali Matt Peters ("LEGO DC: Batman – Family Matters") i Christina Sotta ("Young Justice) na podstawie scenariusza Erniego Altbackera ("Batman: Hush", "Justice League Dark") i Mairghread Scott ("Wonder Woman: Bloodlines"). Za produkcję odpowiadają Amy McKenna (producentka), Jim Krieg (współproducent) oraz Sam Register i James Tucker (producenci wykonawczy).
"'Justice League Dark: Apokolips War' to epicka opowieść o nadnaturalnych proporcjach. Przebój, bitwa generalna, film wypełniony intensywną akcją i szczerymi emocjami, służący chwilom wyróżnienia dla naszej obsady wyjątkowych postaci – powiedziała Mary Ellen Thomas, starsza wiceprezes Warner Bros. Home Entertainment, Originals, Animation and Family Marketing. "Ta niesamowita przejażdżka zabiera nas do krawędzi wszechświata DC i przygotowuje grunt pod ekscytujący nowy rozdział."
---
---
---