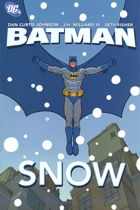 BATMAN: SNOW
Data wydania: 2007
Scenariusz: J.H. Williams III, Dan Curtis Johnson
Rysunki: Seth Fisher
Tusz: Seth Fisher
Kolory: Dave Stewart
Okładka: Seth Fisher
Liternictwo: Phil Balsman
Wydane jako: Legends of the Dark Knight vol. 1 #192-196 (2005 r.)
Ilość stron: 128
Twoja ocena:

GD Star Rating
loading...
Seria "Legends of the Dark Knight", numery 192-196 posłużyły do sklejenia tego wydania zbiorczego. Historia dzieje się około półtora roku po rozpoczęciu przez Bruce'a swojej krucjaty. Opowiada ona o jeszcze surowych relacjach Batmana z Gordonem, o pewnej drużynie śmiałków dowodzonej przez Nietoperza oraz o doktorze nazwiskiem Victor Fries, który próbuje ratować swoją śmiertelnie chorą żonę – Norę. Doktor ten, staje się jednym z groźniejszych przeciwników, których do tej pory napotkał na swojej drodze Mroczny Rycerz.
Genezą Mr. Freeze'a zajęli się J.H. Williams III, Dan Curtis Johnson oraz Seth Fisher. Dwaj pierwsi odpowiadają za fabułę i dialogi, a trzeci za oprawę graficzną. Williams – bardziej znany i doceniany jako rysownik, zajmował się przede wszystkim "Batwoman" i kilka pomniejszymi projektami. Johnson maczał palce w epizodach "Justice League" (między innymi świetna jedno zeszytowa opowieść pt. "Half a Mind to Save a World"), a dla Setha Fishera była to pierwsza (i do tej pory jedyna) styczność z postacią Nietoperza.
Generalnie komiks jest dobry. To, co mnie zaskoczyło w scenariuszu, to to, że nie opowiada on stricte o szalonym naukowcu i jego pierwszej konfrontacji z gothamskim mścicielem. Narracja biegnie dwutorowo i poza genezą super kryminalisty, przedstawia nam drogę, którą cały czas poszukuje młody Batman, by walczyć z przestępczością. Droga ta jest wyboista – kontakty z Gordonem nie są jeszcze do końca udane, akcje Batmana wywołują niepotrzebne komplikacje, które lądują na głowie wąsatego detektywa. Dodatkowo brak snu i kontuzje negatywnie wpływają na kondycję Nietoperza, co odbija się na conocnych patrolach, a nawet na relacjach z Alfredem. Bruce powoli dochodzi do wniosku, że może sposób, który obrał jest ponad siły jednego człowieka. Dociera do niego, że potrzebuje sojuszników i pomocy w terenie. Postanawia stworzyć drużynę z osobiście wybranych kandydatów, których obserwował już od pewnego czasu. Moim zdaniem jest to interesujące podejście do postaci Batmana. Ciekawie przedstawione są metody dojścia do wybranych aspirantów, droga jaką Batman się z nimi kontaktuje, kwatera, którą im buduje oraz szykowane taktyki. Dla zamaskowanego mściciela, którego znamy dzisiaj, taki sposób nie wchodzi w rachubę, ale pamiętajmy, że seria "Legends of the Dark Knight" opowiada o początkach krucjaty, a nie o doświadczonym Bruce'ie po przejściach jak np. w "Batman Incorporated" – gdzie też są motywy z budowaniem drużyny. Tamten Batman Granta Morrisona do mnie nie przemawia, ale w takiego Mrocznego Rycerza, z początku kariery, jestem w stanie uwierzyć. Plus dla scenarzystów za to, że zdecydowali się na takie podejście do postaci.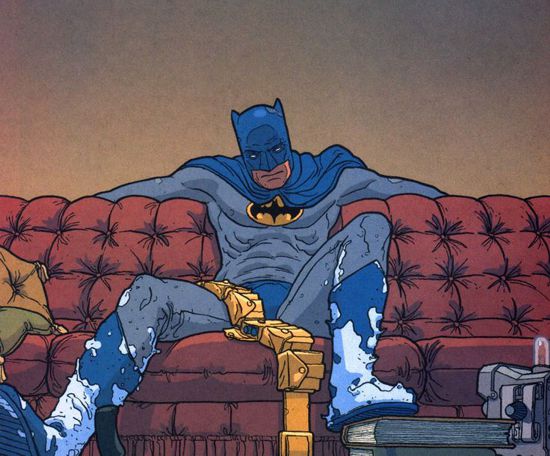 Druga część narracji, to oczywiście losy małżeństwa Fries. Małżeństwa dotkniętego tragedią nieuleczalnej choroby. Genialny naukowiec – Victor – pracujący w bliżej nieokreślonej firmie, zajmującej się bliżej nieokreślonymi naukowymi projektami, próbuje ratować życie swojej ukochanej żony. Kiedy powszechnie uznane sposoby leczenia zawodzą, Victor zabiera Norę do swojego laboratorium. Oczywiście coś poszło diametralnie nie tak. Geneza Mr Freeze'a nie różni się zbytnio od tego, czego nie znaliśmy np. z "Batman The Animated Series" oraz z komiksów przed restartem uniwersum. Scenarzyści umiejętnie pokazali miłosny obłęd kierujący Victorem, jego szaleństwo po nieudanym eksperymencie, a w końcu jego drogę jaką obrał, by to wszystko "naprawić".
Styl Setha Fishera przypomina momentami cartoonową manierę, jednak wcale mi to nie przeszkadzało. Jego rysunki są obfite w szczegóły, a tła są dobrze dopracowane. Jeden z moich ulubionych kadrów, to scena, w której Batman i Gordon spotykają się na rusztowaniu przy budowie nowego budynku. Na owym rusztowaniu widać kaski pracowników, worki z cementem, młotki, rury itp. Bardzo lubię rysunki z taką ilością detali.
Komiks niestety nie jest dostępny w krajowych sklepach internetowych. Szkoda, bo moim zdaniem warto się z nim zapoznać, choćby po to, by móc obserwować młodego Batmana próbującego złożyć drużynę pomocników i działać w Gotham na większą skalę. Jeśli Twój ulubiony super złoczyńca to Mr. Freeze, ten komiks jest zdecydowanie dla Ciebie. Prawidłowo został oddany charakter Victora, któremu momentami współczujemy z powodu tragedii, która go dotknęła i przemieniła.

Plusy:
obłęd Freeze'a
ciekawy pomysł z "The Bat-team"
szczegółowe rysunki
Minusy:
niedostępność komiksu
brak dodatków
---
Poprzednia Strona